Flag Raising is a Community Event
---
Four times a year The Irish Memorial makes it possible for individuals or groups to host the changing of the flags.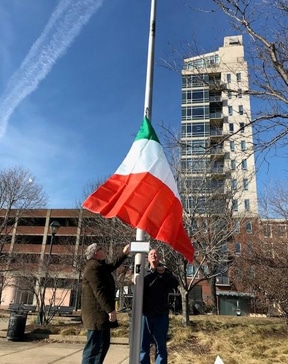 The ceremonial process of changing and renewing the flags of their home country (which in some cases is their adopted home), and the flag from their ancestral home, helps people find a renewed sense of pride and solidarity with their fellow countrymen and all immigrants that have made that difficult decision to leave another country and find a new life in America.
This takes place with great ceremony and celebrates both countries and the part they play in our heritage. If you are interested in participating contact [email protected].      Visit our Flag Raising Gallery page.