Essay: Philly & the Irish
Philadelphia's Immigrant History: From Pre-Revolutionary
War to the Great Hunger Years
---
The Irish made their mark on Philadelphia from the very beginning. There were Irishmen in Philadelphia long before the American Revolution. In the 1700s, some were Protestant Scots-Irish, others Irish Quakers. By the beginning of the 19th century, there were 5,000 Irish-born living in Philadelphia, many of them veterans of the Irish Volunteers who had taken part in the failed Irish uprising in 1798.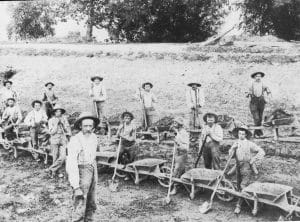 But the "first Irish Philadelphians," wrote the late scholar Dennis Clark in his book, The Irish in Philadelphia, were largely "servants, freemen, and runaways" fleeing prejudice, oppression, religious hatred, unemployment, and, often, landlords to whom they owed back rent.
Even William Penn himself has Irish roots. Penn, a lawyer, officially converted to Quakerism in1668 in Ireland where he had gone to oversee his father's Irish holdings. Ireland offered him the religious freedom denied him in England, where Penn was imprisoned for his beliefs. He dreamed of establishing a religious "utopia" in America. While Pennsylvania—named after Penn's father by Britain's King Charles, who gave the Penns the land in payment of a debt—never became "utopia," Penn insisted on codifying religious liberty. In fact, in his "Frame of Government for Pennsylvania," it was intolerance that was against the law, which made the Pennsylvania colony an attractive destination for Irish of every religious background.
The Society of the Friendly Sons of St. Patrick was founded in the city in 1771 and counted among its members—both Catholic and Protestant—many early patriots, including war financier Robert Morris, General Stephan Moylan, and Commodore John Barry. General George Washington became an adopted member in 1782.
The Friendly Sons was one of the benevolent organizations to extend aid to the thousands who made the perilous trip in "coffin ships," poorly built vessels that carried Irish immigrants, most forced out of their home, to the port of Philadelphia. Nearly one out of five died during the journey. Their first stop on arrival was the Lazaretto, a quarantine station built in 1799 in what is now Tinicum Township, where the Delaware and Schuylkill rivers meet. In 1802, a new building was erected which still stands at Wanamaker Avenue and Second Street in Essington.
While Irish immigration to Philadelphia flowed steadily throughout the 17th and 18th centuries, harsh penal laws, widespread unemployment and, finally, the six years of the Great Hunger saw an upsurge in Irish immigrants to the city, which was undergoing rapid industrialization and in need of skilled and unskilled laborers. Between 1845 and 1851, 750,000 Irish refugees came to America, mainly rural dwellers who crammed into the large cities on the Eastern seaboard.
By 1860, 95,458 Irish men and women were living in Philadelphia, making the Irish the largest single immigrant population in the city. They worked as laborers in foundries, forges, rolling mills and brick works, as well as in wealthier homes as servants.
Many of these new immigrants were Catholic and, as local author Ken Milano writes in his book The Philadelphia Nativist Riots, "the red carpet was not exactly waiting for the Irish Catholics when they immigrated to Philadelphia." The same anti-Irish, anti-Catholic prejudice they experienced at home was part of the fabric of their new community: Anti-immigrant sentiment had erupted several times in major riots in Kensington between 1828 and 1843.
The most violent of these riots occurred in 1844, when so-called Nativists—Protestant Irish and American-born residents alarmed by the influx of Catholic foreigners—held a meeting in the predominantly Irish Catholic neighborhood of Kensington, then a suburb of the city.
Angry words became gunshots and by the time the riot was over, nativists had attacked the Seminary of the Sisters of Charity, burned St. Augustine's Church in Old City and St. Michael's Church in Kensington. The military was brought in to subdue an attack by thousands of nativists on St. Philip Neri Church in Southwark, where the parish priest had applied for weapons and a protective force after being forewarned of impending trouble. At one point, cannon fire from the mob damaged part of the building. By the time the riot was brought under control, at least 15 people were dead and another 50 wounded
But, as historian Dennis Clark points out, the Irish were in Philadelphia to stay. By 1857, 22 percent of the city's grocers, 12 percent of its dry goods dealers, and 11 percent of its real estate agents had Irish last names. By 1854, nearly all of the paving and construction firms in Port Richmond were owned by Irish. And there were full-fledged Irish millionaires, like Colonel Thomas Fitzgerald, the son on immigrants, publisher of a weekly newspaper, who left $3 million at his death.
The Irish, Clark said, were proof of the American promise that hard work, skill, and persistence could ultimately lead to remarkable achievement. "The Irish, " he wrote, "by being the first and the largest urban minority group with which American society had to deal, and by working, prying, and infiltrating their way into the general society, would constitute an example for the array of other immigrants that would follow them."