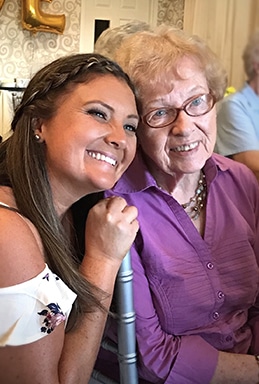 Mary Ellen (Mellie) Hennelly (nee Lavin)
---
It was after the war; my father was a cooper by trade and he would make churns. As far as I knew we always had some money – we never went hungry. We grew our own food and we had grazing cattle, a goat and hens. My mother would raise turkeys and sell them at Christmas time. We always had to help in the bog, and I hated when the turf was wet – I liked going to the bog but I really hated wet turf. We would bring a kettle to the bog, build a fire and boil some water for the tea. But the fire, it was always so smoky — it was the worst tea you could ever taste, with all that smoke.
There was a cinema too, so we saw movies, but no television or magazines. The first movie I saw was "How Green Was My Valley."
When I got out of school I went to the Tech, and my sister Winnie went to the Convent school. Soon after I left school, my Aunt Mary Sullivan and her daughter, my cousin Margaret left to go to America, that was September 1947. I really missed Margaret and so I asked my Aunt if I could go to America and she sent me over my fare, I left in February 1948.
I know what I was wearing the day I left, a black coat sent to me by my mother's cousin Ann Marley. The boat was hell, the worst experience I had in my life. I threw up every minute of the trip. I never ate a thing in nine days. I went to the dining room the first night and one thing I remember (and will never eat again) is cake with thick icing. When I arrived I must have looked like hell. For a long time I couldn't even look at the water. There was a Canadian woman that was also really sick but she was sick because of the smallpox vaccine she got before she left. I said I would never get on a boat again.
It was snowing when I left on February 22 1948 and it was snowing when I got to New York, and when my Aunt Mary, cousin Margaret and Uncle John met me in New York. Margaret was wearing sandals.
My mother was happy that I was going to stay with her sister because she knew Aunt Margaret would take care of me. But she was very strict. I also had an Aunt in Morristown who wanted me to go there. I was conflicted because she was so good to me and my family, always sending packages over. But I came to Aunt Margaret instead because of my cousin really and knowing someone my own age.
I wasn't that homesick really. I had fun. On the weekends we would go to the dances at the 38th Market VFW and go down to 39th & Lancaster to the The Forresters, stay until 2am and then come home on the EL. There was no drinking in the dance halls then; it was a different time. My uncle would pick me up and then we would go stay at my Aunt's house in Westown.
My first job was at Our Lady of Rosary Rectory 63rd and Callowhill. I lived in a section of the rectory. There were 5 priests there, and I learned to cook for them, but there was a house-keeper that would talk to herself and was a bit crazy. She made it a difficult place to work but I was there for 1.5 years before I left.
I thought I would go back to Ireland within 5 years but it was hard to save and send money home at the same time. I got married in 1954 and my daughters Maureen and Ann were born in 1955 and 1957. I went back home in 1960 and stayed from July-April. I did not notice much of a change in the 12 years since I had left although my parents had built a new house and moved out of the thatched cottage that I grew up in. My father and Jimmy, my brother, had made the bricks themselves for the house.
Mary Ellen Hennelly (nee Lavin) was born and raised in Brooklawn, Ballaghaderren Co. Roscommon before she emigrated in 1948 at the age of 18. She married Joseph Hennelly and has 4 daughters. She is a very active grandmother and great grandmother. She is a wonderful cook and bakes every day. On Thursday night every week, she hosts dinner for family and friends.
As told to her niece Patricia McElroy