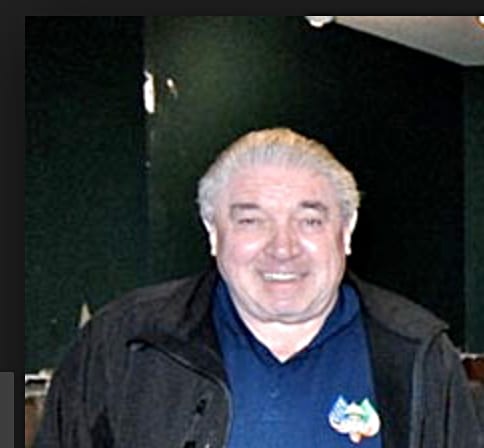 Courtesy of The Irish Edition    Written by Kathy McGee Burns

---
Imagine being born in the County which was founded by St. Patrick and, as legend would have it, contains the ashes of Brian Boru! Armagh is where Seamus Boyle calls home. So it's no wonder that he has achieved the highest office achievable in the Ancient Order of Hibernians….National President. He has the "stuff" which makes a man a leader.
His hero and mentor, Joe Montgomery (the only living man to have an AOH named after him) told me that Seamus Boyle is a "man of impeccable character", direct, honest and to the point. Joe quotes an old saying "the longest journey begins with the first step". Joe prides himself on being there when Seamus took that first step. Now Joe will be there again when Seamus Boyle steps down the Parkway as Grand Marshal of the St. Patrick's Day Parade in Philadelphia.
Seamus Boyle was born in Newry, which was a predominately Irish speaking area, and important because of its position between Belfast and Dublin. His parents, Terrance and Catherine (McArdle) lived there with their 4 other children, Michael, Thomas, Nula and Carmel. When Seamus was twelve years old, the family relocated to Philadelphia… the Mayfair area to be exact. On his first day of school at St. Matthew's, his accent and name caught the attention of some of his classmates. They started to make fun of him….and, oh well, his temper flared. A fight got started and sensing his fierceness, one of the lads, Billy Monaghan, jumped ship and took up fists for Seamus. Billy Monaghan is still one of Seamus Boyle's loyal friends.
He ran track and cross country at Fr. Judge High School and upon graduation he took up his father's trade, carpentry, apprenticing with the Union.
Seamus got a job with the British American Construction Management Co. which took him out of the country to far off places like Canada, Spain and Germany. After several years, he decided to quit the nomadic existence and on his way back to Mayfair, stopped off to visit his Grandparents and there he stayed for three years.
Seamus would drive his cousin, Anne, to the dances on Saturday night along with Anne's friend Bernadette Boyle. Finally after a year of "dragging these young ladies around", he asked Berna, who is from Aghayalloge, Killevy, Armagh, for a date. Two years later they married and Bernadette Boyle became Bernadette Boyle Boyle.
Work, in Ireland, had been hard to come by so in 1971, the Boyle Family came back to Philadelphia. Seamus rose quickly in the Carpenter's Union until he became Business Representative of the Regional Council of Carpenters. He was continuously re-elected until his retirement in 1997.
His first experience with the AOH was with his Dad. Terrence would go to mass on Sundays and then to his club, AOH #39. Seamus would tag along. This chapter was dying out. It needed newer, younger members if it was going to continue. They looked to Seamus and he delivered. He started to recruit every Irish Catholic Male he could find ("even Billy Monaghan") he said with a chuckle. AOH#39 grew from 15 members to 750 in eight years. Meteoric!! In 1980, there were only 3 divisions and now there are 17. Seamus grew with them from County Secretary, Vice President, President, State President all the way  to the top..National President. When he talks about the AOH, there is a fervor in his demeanor, you can see "the stuff", the boy from the County Armagh, the ancient warrior.
Seamus Boyles's heroes are Commodore Barry who won the final naval battle of the American Revolution and  Michael Collins, of which Seamus believes that had he not died, Ireland would have been united. He also admires and respects" the Great Hibernian" ,Joe Montgomery who said of Seamus, "I saw the potential right away". And then there is Berna….his angel, his best buddy. He calls her understanding, supportive, thoughtful, too good and the best Grandmother. The Boyles have 3 children; Michael, Tara and Bronagh and 6 Grandchildren ages 2 to 11: Kieran, Colin, Sheila, Megan, Brady and Finegan.
When you first meet Seamus Boyle he seems stern and serious but when you touch on certain subjects, the wrinkles on his face fill up with laughter and elation. I told him he reminded me of Squire Red Will Danaher (Victor McLaglen) in the Quiet Man. He said he heard it before.
As for Ireland he has a fierceness in his heart to see a fully united country. When that happens, Seamus Boyle can step forward with those in the ranks, those who down through the ages stepped forward and were counted.